A thrilling travel story that could make you wipe away your post-Erasmus tears and pack for Asia right now!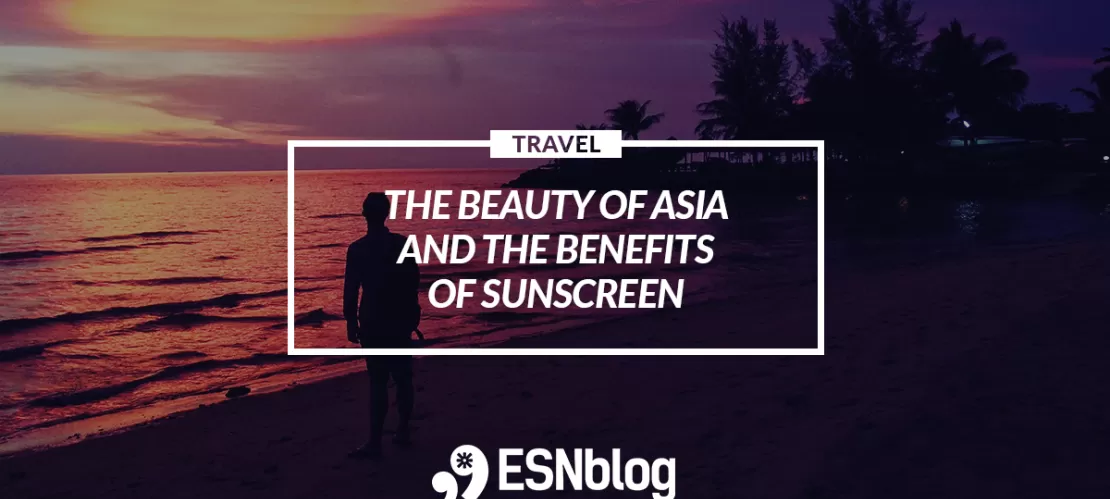 Wanderlust is an essential part of the life of any Erasmus student and ESNer. Going to Asia had always been my dream, so when my boyfriend Alex and I were actually sitting on a plane to Bangkok, I couldn't stop smiling. Did I know what was awaiting us? Well, the reality turned out to be more challenging, but also much more rewarding than my expectations!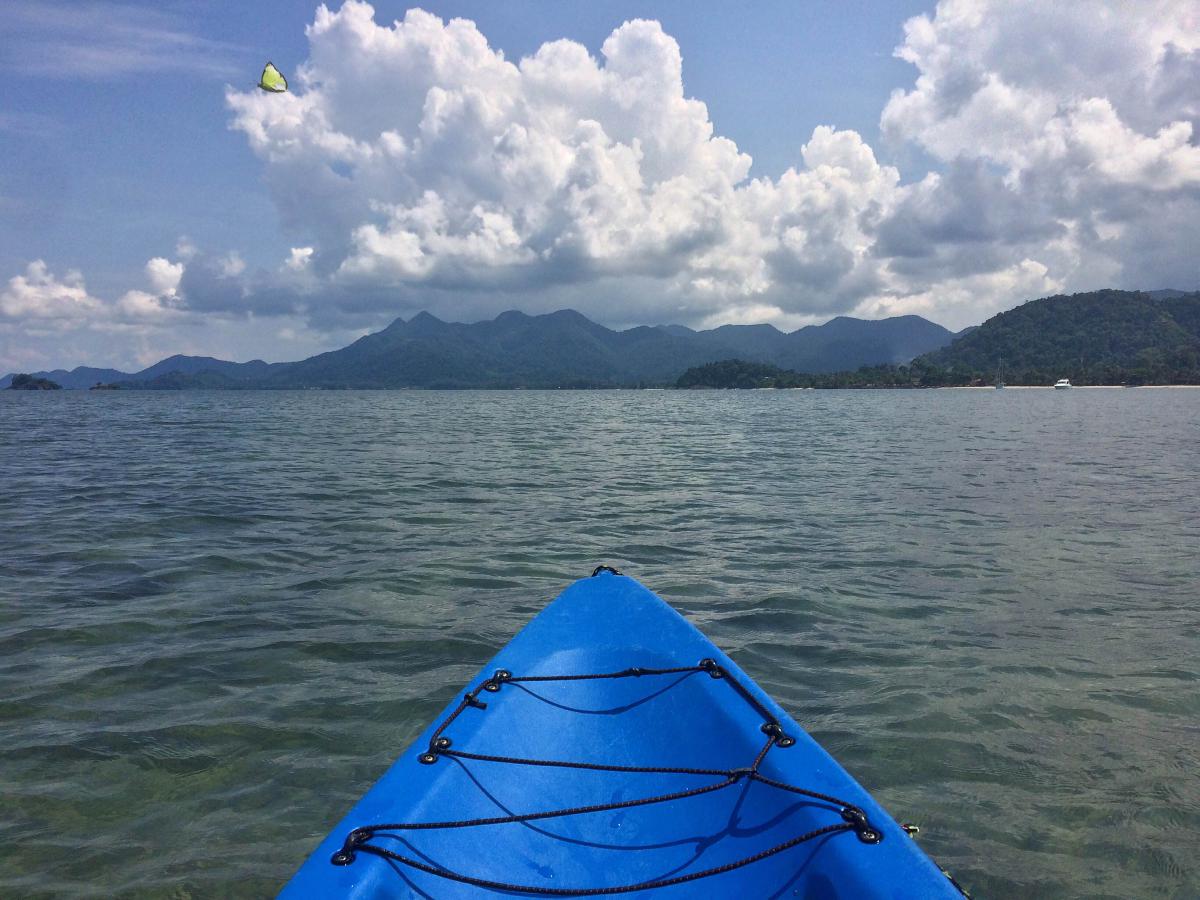 The first thing I felt when we got off the plane was… the lack of air. You expect it to be hot in Asia, but not please-give-me-an-oxygen-mask-I-literally-cannot-breathe hot! It took me several days to get used to this weather. The only advantage of it is that you lose weight more quickly than on any diet – you always feel thirsty but almost never hungry.
And when I did get hungry on our first day in Bangkok, we tried some local street food and ordered appetising rice with seafood, which made me burst into tears. You may have heard that Asian food is spicy – and it sure is! So, here's my advice: order the original Thai food once in your life, but afterwards, always ask to bring you the 'not spicy' version.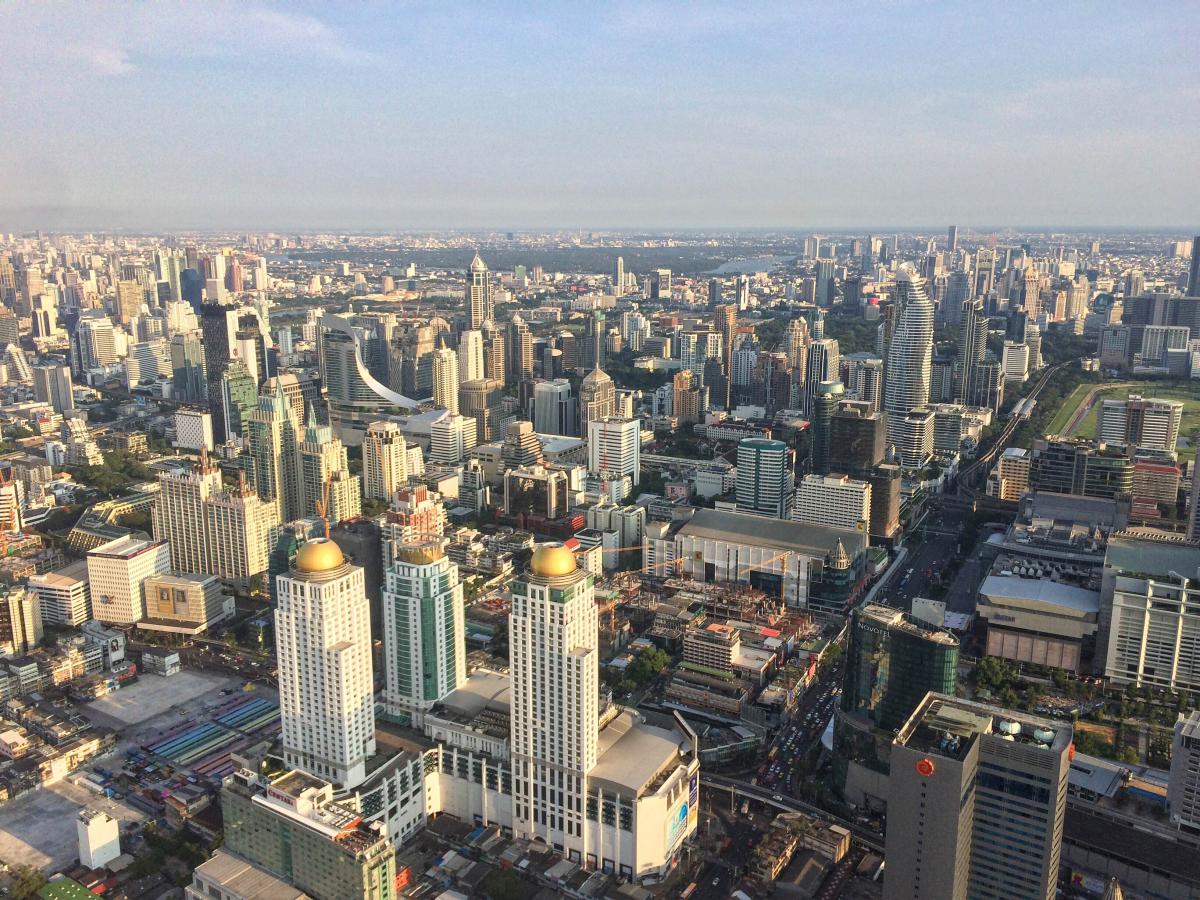 Apart from trying to breathe and not to cry while eating, we spent our days in Bangkok in its historic centre, visiting lots of temples – the Grand Palace ('the King's temple'), Wat Pho ('the large-reclining-Buddha temple'), Wat Arun ('the white temple')… Yet, my favourite memory of Bangkok was the view from Baiyoke Sky Tower. Seeing the whole city with monumental skyscrapers and endless roads reminded me of the essence of travelling. We are all locked in our daily routine, and only when we start travelling do we realise how big and diverse our world is.
Our second destination was Koh Chang. White sand beaches, crystal clear water, big palm trees, and amazing, out-of-this-world colourful sunsets… If there is a paradise on Earth, it is definitely this Thai island.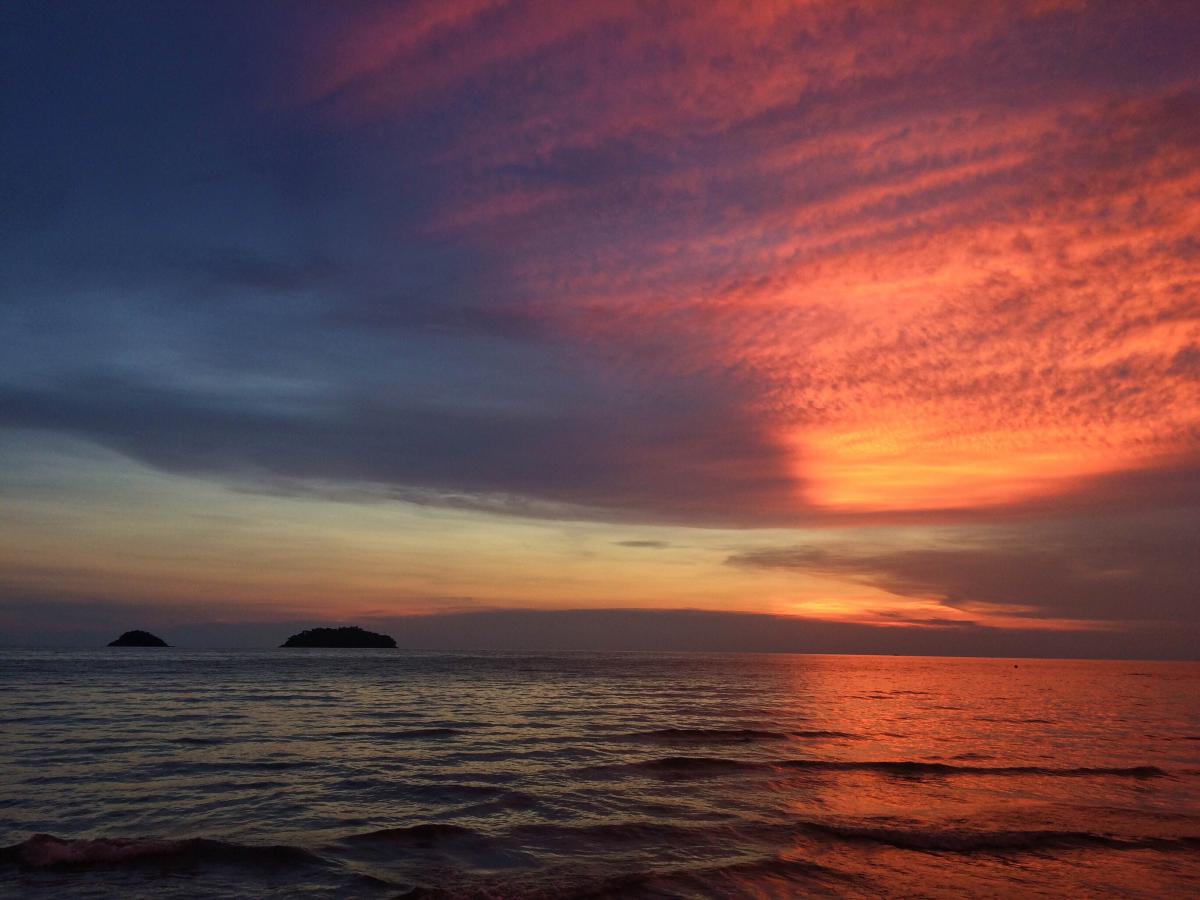 There's only one thing that can ruin this blissful atmosphere. Never. Ever. Forget. Your. Sunscreen. We spent our last day kayaking and exploring small islands near Koh Chang. We had lots of fun, but the problem was, we had used our sunscreen only early in the morning and forgotten to take it with us. When we got back to Koh Chang, I felt an awful burning pain running all over my body. And it kept getting worse and worse. On the bus, on our way back to Bangkok, we made a loud 'Oh!' every time we accidentally touched each other. 'Well, at least we've found real buried treasure', laughed Alex, meaning a twenty-baht (half-a-dollar) banknote that we picked up from the bottom of the sea near one of the islands.
The following day brought us more pain from sunburns, but also a buzz of anticipation. We were going to Cambodia to see Angkor – the capital of the Khmer empire, the biggest city in the world back in the 9th-15th centuries, and the place where Lara Croft: Tomb Raider was filmed!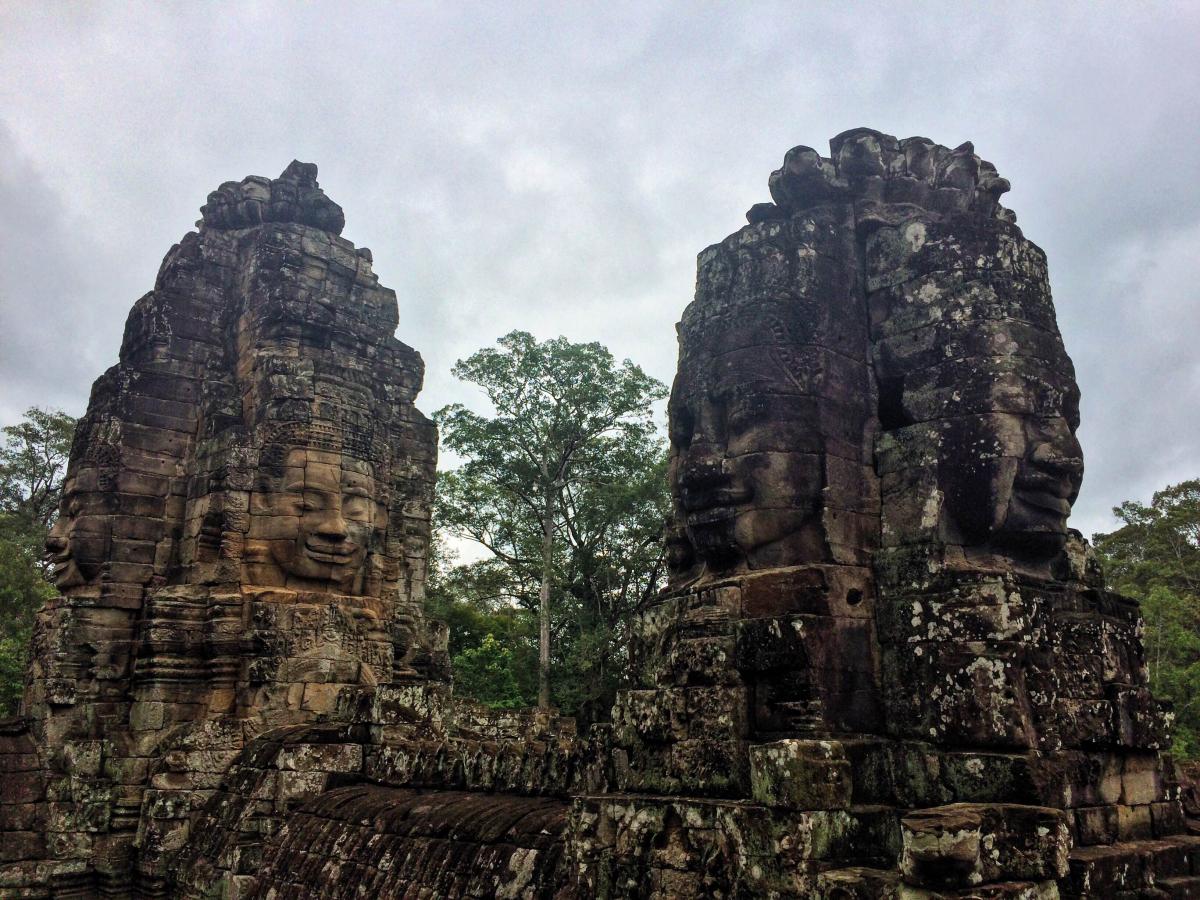 Already in Angkor, we were amazed to learn that some people actually spend weeks there to explore all its majestic beauty. The Khmer citizens used stones to build religious buildings, everything else was made of wood and got destroyed through the centuries. That's why the distances between the temples are enormous. Luckily, with the help of a tuk tuk – a funny three-wheel taxi popular in Asia, we managed to see five main temples in one day and got absolutely mesmerised by Angkor's atmosphere. Looking at this once-so-powerful city, you really can't help thinking how fragile everything in our life could be.
The next point on our route was Kuala Lumpur – the capital of Malaysia. Knowing that it is a Muslim country, I was a little bit worried about accidentally insulting someone. Could I hold Alex's hand? Was my shirt too short or low-cut?
My concerns turned out to be nothing but usual stereotypes. People there were really friendly, helpful, and tolerant. The city also seemed to have an especially diverse spirit – modern skyscrapers, green parks, giant shopping centers, and the tallest twin towers in the world (Petronas Twin Towers), mingled with small, yet lively and colourful districts like Little India and Chinatown.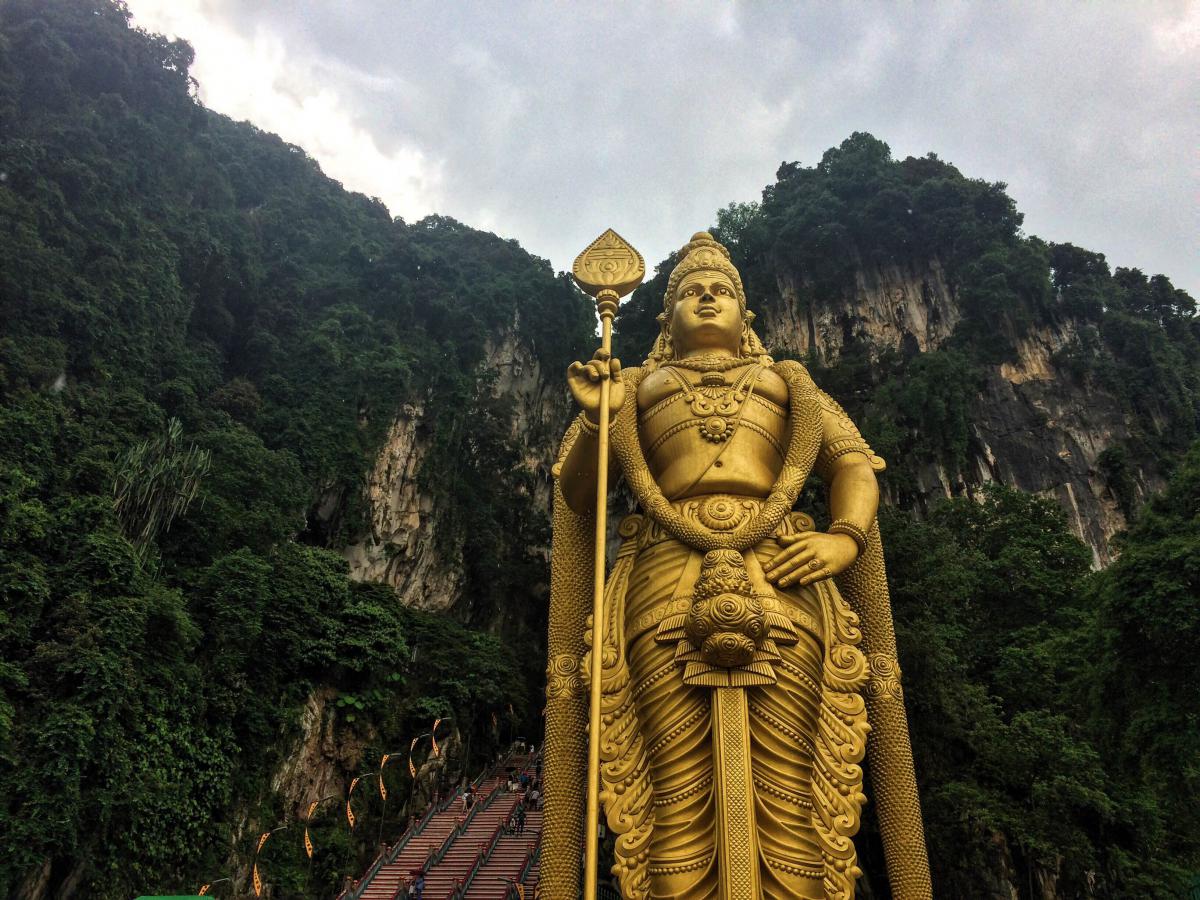 The only place where you need to be alerted in Malaysia is Batu Caves. Don't forget to put this breathtaking natural Hindu shrine on your travel bucket list, but be ready for a battle with the true owners of the temple: monkeys! There are hundreds of them there, and they are brave enough to steal food from your arms, mouth, and bag, with the boldest ones eager to steal the bag itself if they smell something tasty inside!
Our last destination is known as 'the city of the future', 'the innovation hub of Asia', 'the Garden City' (due to Avatar trees and the world's largest indoor waterfall there), and 'The Fine City' (be ready to pay up to €900 for littering!)…
And we were literally one minute away from missing our flight to this very special place – Singapore! We had always used the low-cost airline AirAsia to travel, and we have never been disappointed with the service before. This time, however, there was only one queue for all AirAsia flights, and it seemed endless. We ended up checking-in only one minute before the deadline. Lesson learnt: always, always arrive at the airport on time.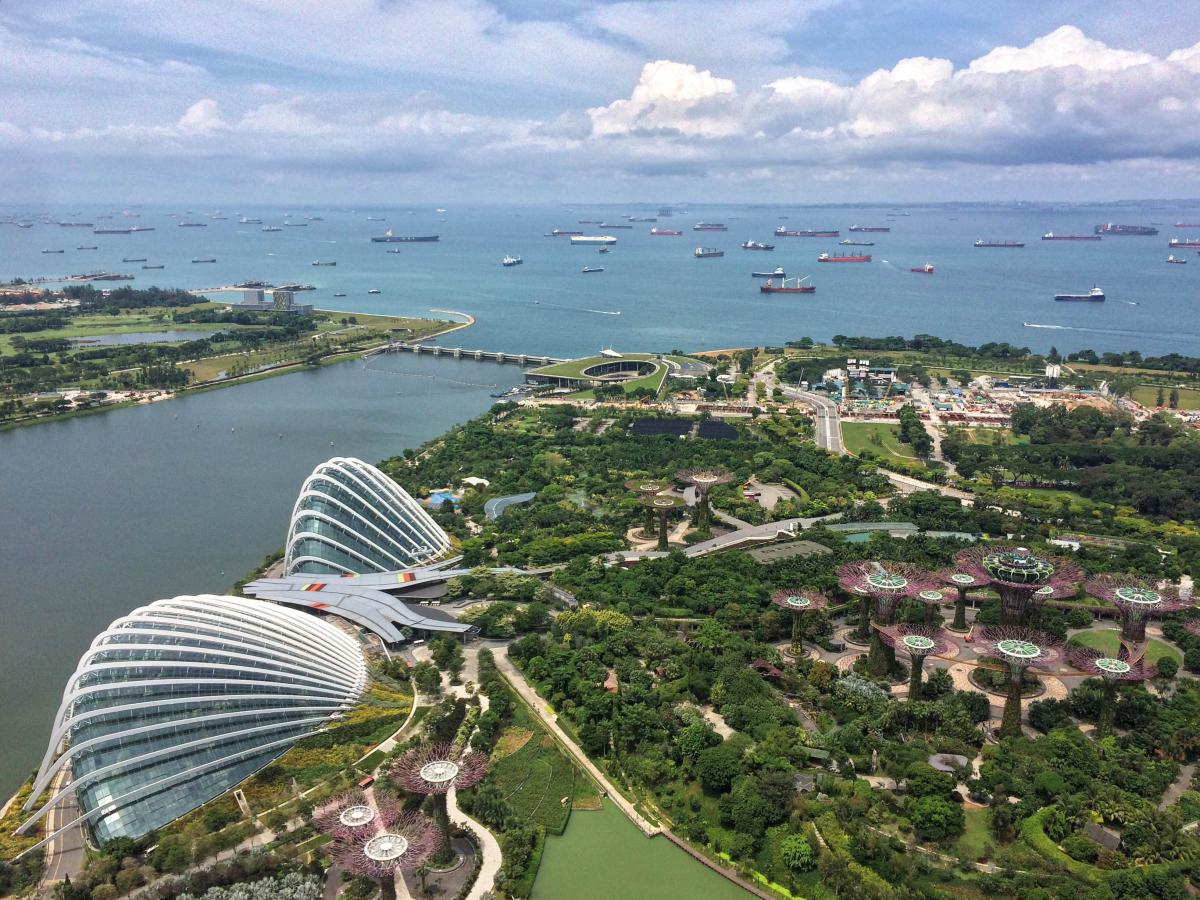 Singapore turned out to be worth all the nerve-wracking wait in the queue. It definitely is a city of the future, especially when you see its new park Gardens by the Bay – a green island built on reclaimed land near the harbour. 'Avatar' artificial trees, two conservatories, and multiple lakes create sustainable cycles of energy and water throughout the whole park, making it a masterpiece of the human imagination.
All in all, we've had an amazing trip, which has brought us unforgettable memories, beautiful pictures, and lots of funny stories to tell. And yet…
'What struck me the most during the journey was how diverse and yet how similar our world is. Because at the end of the day, it doesn't matter where you are – in traditional Cambodia or futuristic Singapore. They might have different cultures, languages, religions, traditions, lifestyles, but people are alike all over the world. We dream, we love, we laugh, we cry, we fail, we succeed, and we strive for more. Despite all the differences, we are one. 'Unity in diversity' – with over 500 sections and 40 countries involved, that's what ESN is all about. And it's during trips like this that you understand the true meaning of this phrase. And learn to use your sunscreen, of course'.
A whole world of wonders and adventures is awaiting you, so what are you waiting for? Get ready to replace your post-Erasmus tears with the Asian-spicy-food ones, take your friends and an SPF 50 sun protection cream with you... and go for the best adventure in your life! Good luck!
P.S. Special thanks to Alex for sharing this adventure with me and to Peri for helping us out in Cambodia.