Being a part of the planning and organising of an international event can be rewarding in so many ways.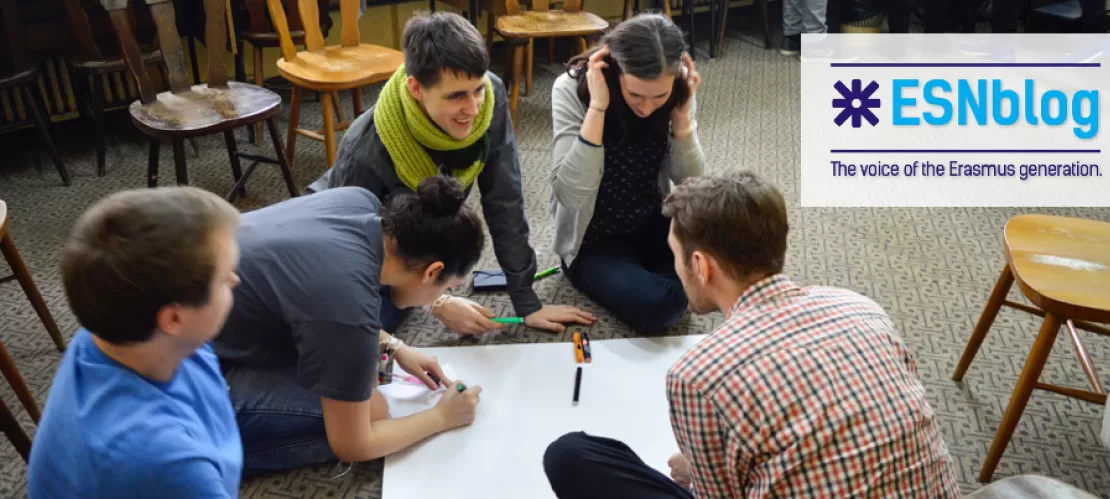 Every year, a multitude of events are organised for ESNers and behind each event, there is a dedicated and hard-working Organising Committee. This group of people takes time from their everyday work for international students to do something more and go through the gauntlet that is grant writing, sponsor seeking, negotiating and planning. All that for events that usually last only 4 days. What we keep hearing from these OCs, though, is that the experience gave so much to their section and helped them grow even closer as friends.
Eduk8 events are unique in ESN because of their length (varying between 4-8 days) and because of the main focus, which is non-formal education and training. As most of the days are spent in an intense learning environment, these events require a special approach and atmosphere. The OCs of these events also usually have to work closely with the international Eduk8 team and the trainers delivering the workshops. ESN Timișoara rose up to this challenge to organise the recent Eduk8 Starter event, where many ESNers got their first taste of Eduk8.
We were lucky enough to pick the brains of the two Heads of OC of this event, Alexa Flamindu and George Apostolescu.
Why did you decide to apply to organise this event?
George: We decided to apply because I had heard that this kind of an event could be very useful for ESNers – as participants, and to motivate the volunteers of the OC's section. At the same time, "bring Eduk8 back to Romania" was one of my goals when I presented my candidacy for vice-president of ESN Romania.
Alexa: At the beginning, I wasn't very familiar with the project, just had heard of it briefly, I knew there had been an edition in Cluj Napoca and that was it. I did some research and became more and more curious about it. The option was discussed with the local board and it was then clear we could actually do it and make it remarkable. It was yet another challenge and we were more than keen to go for it.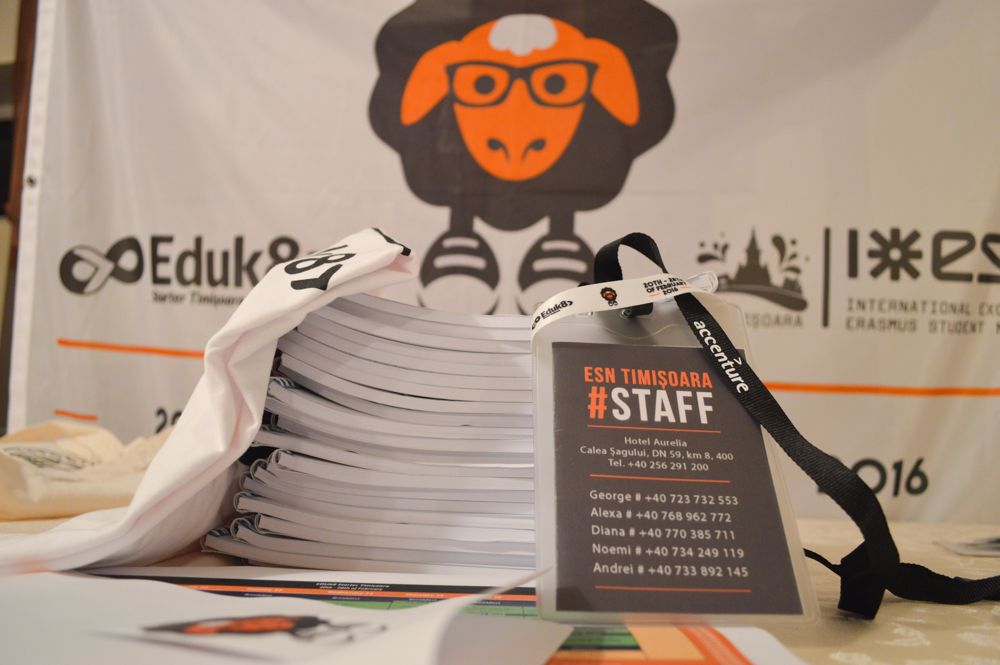 How big was your team? Was it easy to find helpers?
George: Our team wasn't very big. We were 5 volunteers and we had many brainstorming sessions about how to properly organise an event like Eduk8. We even had volunteers from other sections of ESN Romania who wanted to help. Unfortunately, we couldn't accept them, because we had enough volunteers from our section.
Alexa: Except for George and I, the team had not worked together before which made be a bit nervous. But as George mentioned, we had our fair share of meetings prior to the event where we went through each task we had to accomplish. During the event itself, there were 11 volunteers taking turns each day at the venue and helping out with the organisation. The event was a great motivator: even the idea of being part of the OC of such an important event was amazing. This and the fun we had along the way were what kept us going through the 8 days with less than 6 hours of sleep per night and a lot of tasks to do.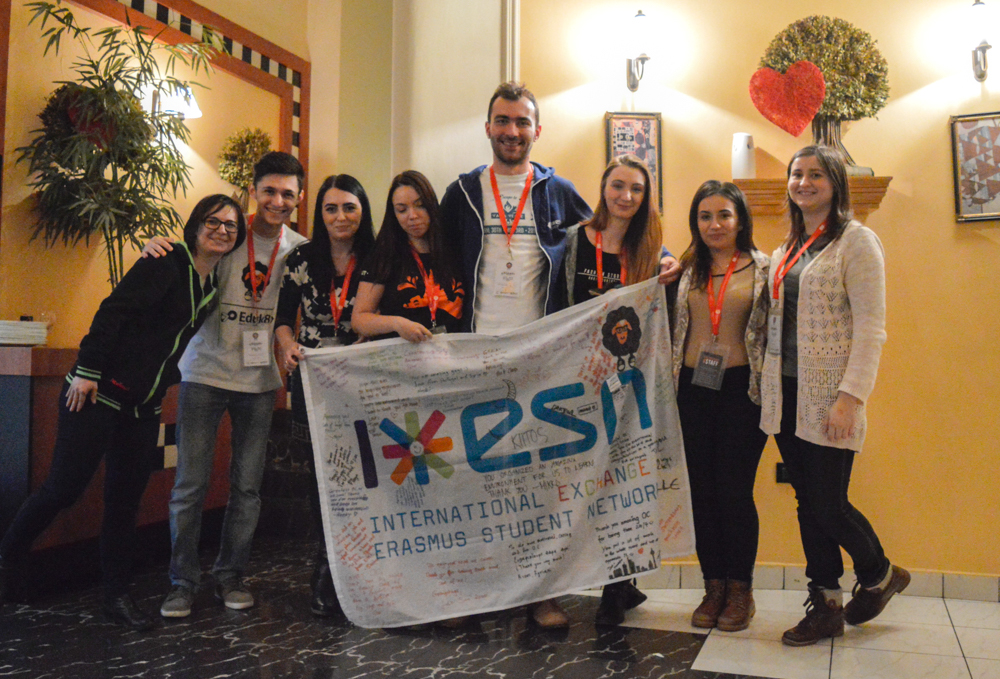 What was the most rewarding part of the event?
George: The closing ceremony, when the participants and trainers said we were THE BEST OC EVER and some of them even asked if we could host another Eduk8 event in Timișoara.
Alexa: I totally agree... that moment was one of a kind.
And last but not least, why should a section apply to organise an Eduk8 event?
George: Visibility, development and best practices. Each section that organises an event like this gains visibility on the local level (IRO), national level (one step ahead of other sections) and the international level (to pin your section on the ESN map). As for development: it's the skills development for the OC and volunteers, because we can say that this event is the most formal ESN has and it's all about empowering the volunteers. At the same time, best practices which the participants find are a vital element  and can be shared in both formal and informal contexts in the future.
Alexa: Even if the Open Call might seem scary with all the requirements at first, I believe a section should look into applying for organising this event as an opportunity for developing the section, bringing people together, as this could actually work as a team building for the volunteers from the OC. Of course, you need a venue and a team of minimum 5 people as the main OC taking the responsibility on their shoulders.
I can honestly say that our team of volunteers has grown closer since Eduk8 Starter and I strongly believe that we are not just a team anymore, we are a family.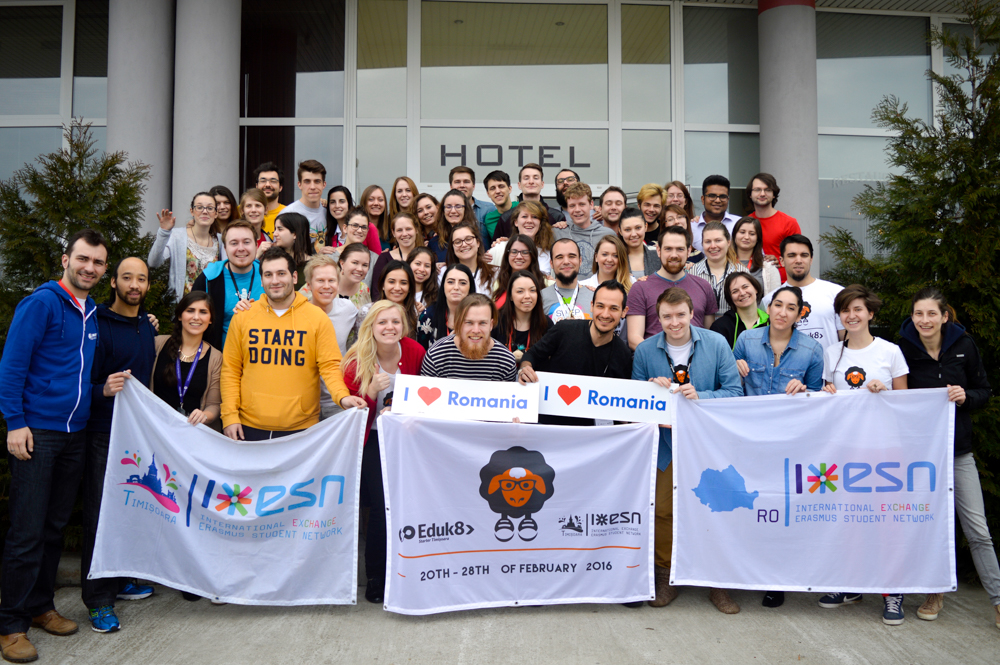 The international Eduk8 project team also had nothing but kind words to share about the event. In the words of Kacper Olczyk, the PR manager of the project: "Eduk8 Starter Timisoara was a truly unforgettable event which allowed to bring up a new generation of Eduk8ers, a motivated and inspired group ready to give ESN Endless Possibilities. Every Eduk8 event raises the bar higher and higher, but the OC of Eduk8 Starter Timișoara reached for the stars and prepared a fantastic week with every aspect running like clockwork."
Do you think your section has what it takes to organise an Eduk8 event? Keep your eye out for the next Open Call!
Eduk8 is ESN's international training project, which aims to empower ESN members with soft skills that allow them to develop themselves as individuals and perform better in their daily ESN tasks. Also, Eduk8 aims to create a pool of trainers with the tools and knowledge needed to educate and develop fellow members in the network.