Over 11,000 people in 27 countries all across Europe contributed to improving society during Social Inclusion Days organized by ESN this April. Are you ready to leave your mark?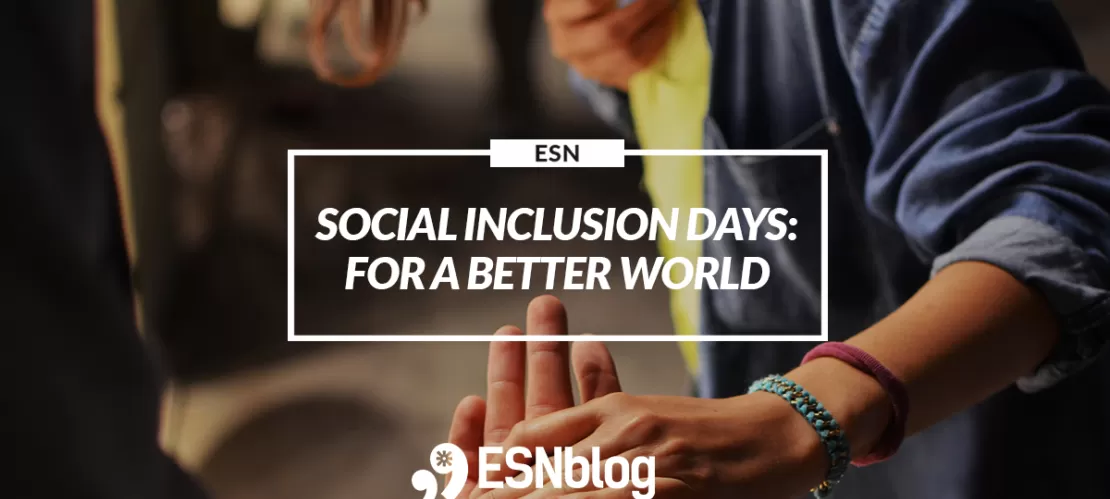 "My life amounts to no more than one drop in a limitless ocean. Yet what is any ocean, but a multitude of drops?", says the last line of the book Cloud Atlas. Following the belief that each one of us can make a difference, the Erasmus Student Network organises a two-week initiative: Social Inclusion Days, twice a year, providing Erasmus students with a chance to make the world a better place.
The last Social Inclusion Days were held between 16th and 29th April 2018. During these 14 days, local ESN sections in 27 countries have organised 507 events celebrating volunteering and social inclusion. The main focus was on the social impact international volunteers have on local communities and on inclusive events. In total, 11,193 people were reached. Erasmus students were inspired to return home as more active and socially engaged citizens.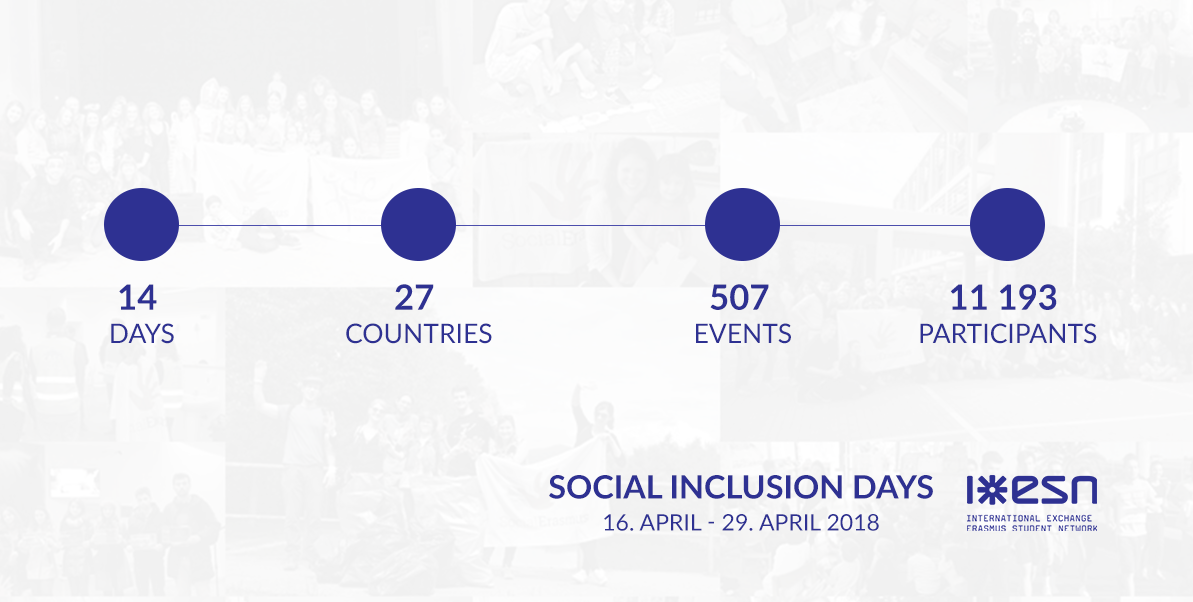 In general, SocialErasmus and ExchangeAbility are the international projects of ESN in the spotlight during Social Inclusion Days. SocialErasmus aims to enrich student mobility experience with volunteering activities that take social action and foster change in society. ExchangeAbility is focused on students with disabilities and ways to enable them to experience an international and intercultural atmosphere – either during Erasmus or at home universities.
Apart from promoting SocialErasmus and ExchangeAbility, Social Inclusion Days also help exchange students to better understand their Erasmus country's culture through first-hand experience with locals. For instance, ESN Valladolid organised a nursing home visit, where Erasmus students sang songs and played the guitar for elderly people.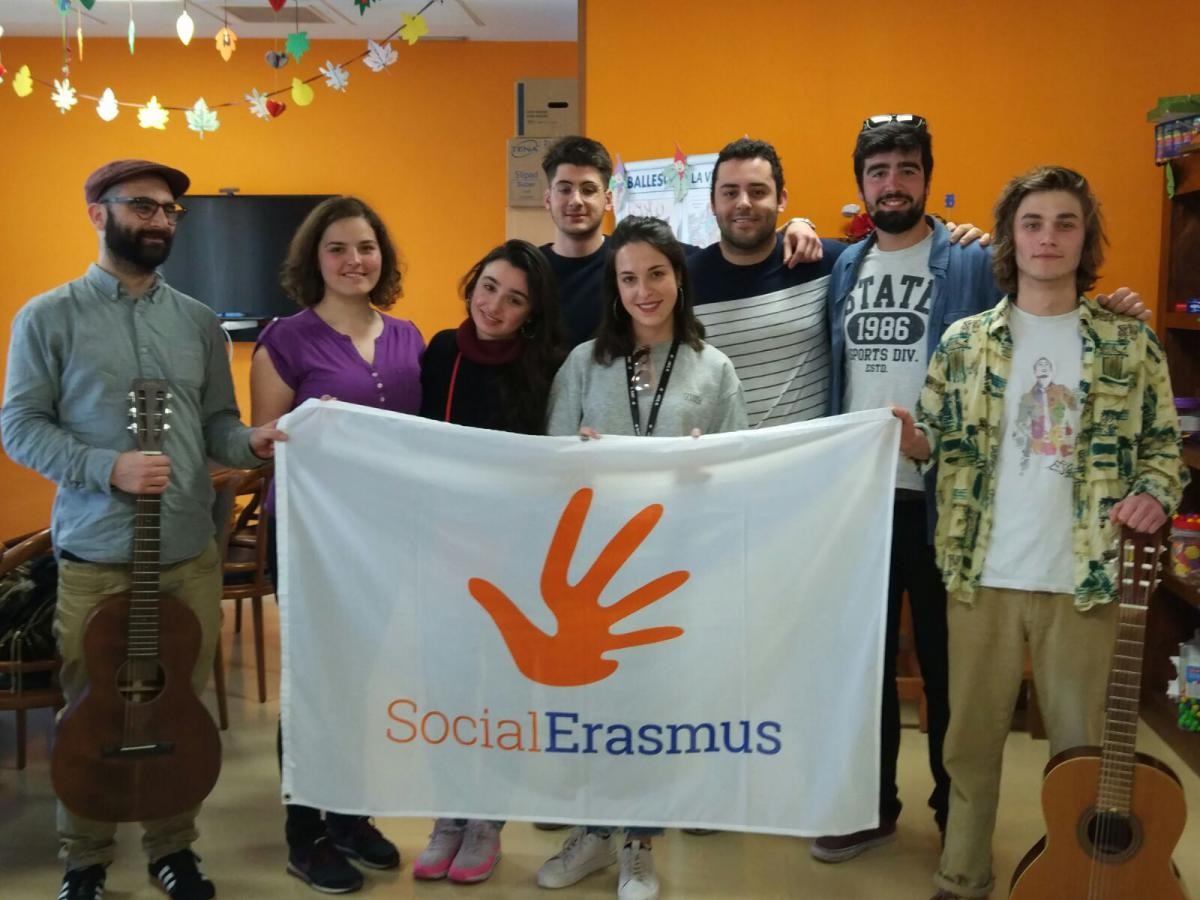 Ágnes Sárközi, an Erasmus student from Hungary, was amazed by how fast he and his friends connected with the elderly and was happy to see them being reintegrated into society:
"Erasmus students live in a bubble during their exchange period. Thanks to ESN Social Inclusion activities, that bubble bursts, and we can see the reality and all the problems that affect people in the city and the country".
Another important characteristic of Social Inclusion Days is the diversity of the events organized. Each student can find something that appeals to their heart. Do you like animals? Visit an animal shelter. Want to help fight poverty? Start by simply handing out hot meals to the homeless. Are you against discrimination? Conduct a diversity workshop at a local kindergarten and spread tolerance among the young ones. Would you like to improve the level of education? Take part in a Geography lesson at a refugee centre and help kids widen their view of the world. Concerned about health? Become a blood donor and save someone's life. Can't stand violence? Meet children with development disabilities and help them feel like they are a part of society. Are you into environmental protection? Join a team and clean an entire beach, just like ESN Romania and Let's Do It, Romania! did this April.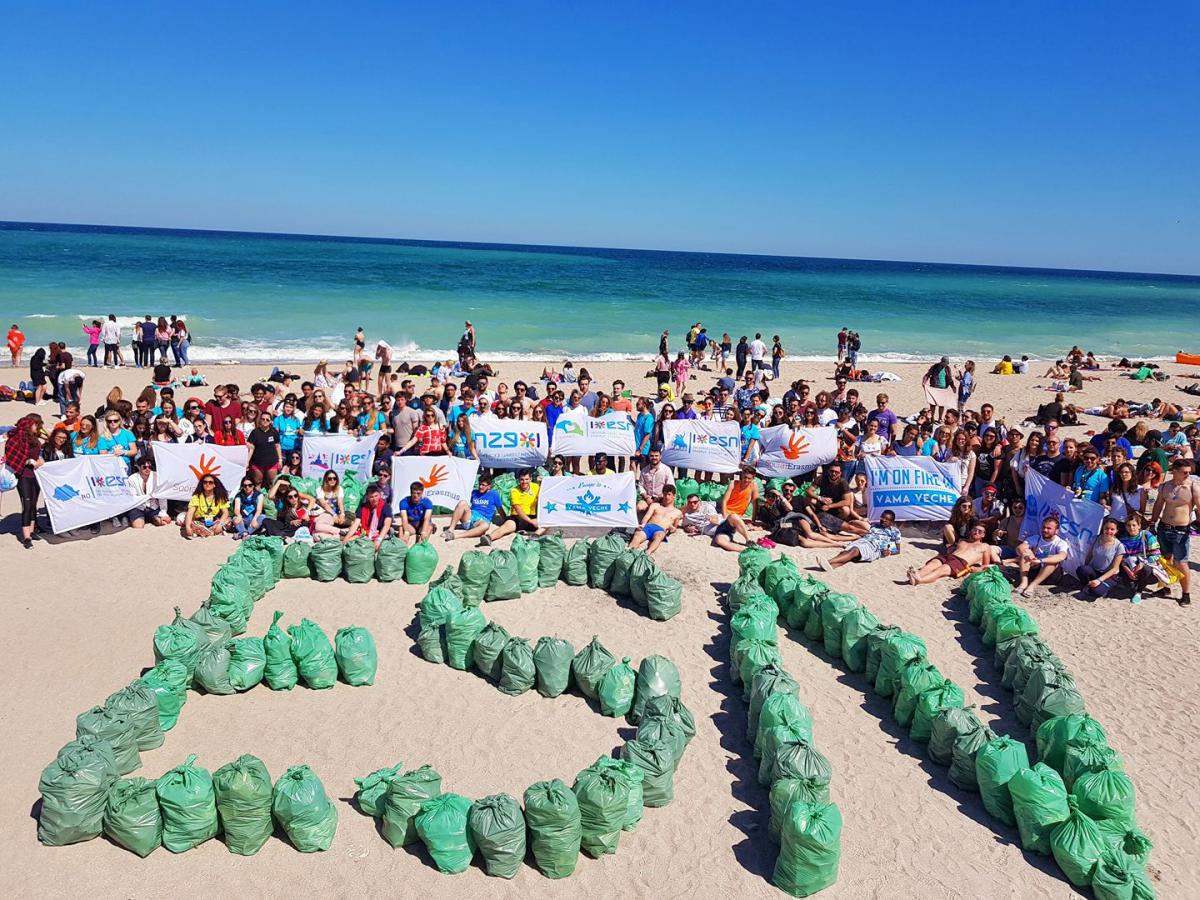 The events above are just several examples of over 400 events organised to support SocialErasmus during Social Inclusion Days this spring. However, exchange students interested in raising awareness about the challenges encountered by students with disabilities also had many ExchangeAbility event options – from dinners in the dark where one could experience how people with visual impairment do everyday tasks, to sports events bringing together people of all ages, with and without disabilities.
We would like to express our warmest thanks to all the sections that joined Social Inclusion Days this spring. Special thanks go to the leader in terms of the number of events – ESN Spain, who organised 90 activities in just 2 weeks! Also, we would like to highlight ESN Italy and ESN Turkey, who held the biggest number of SocialErasmus and ExchangeAbility events respectively.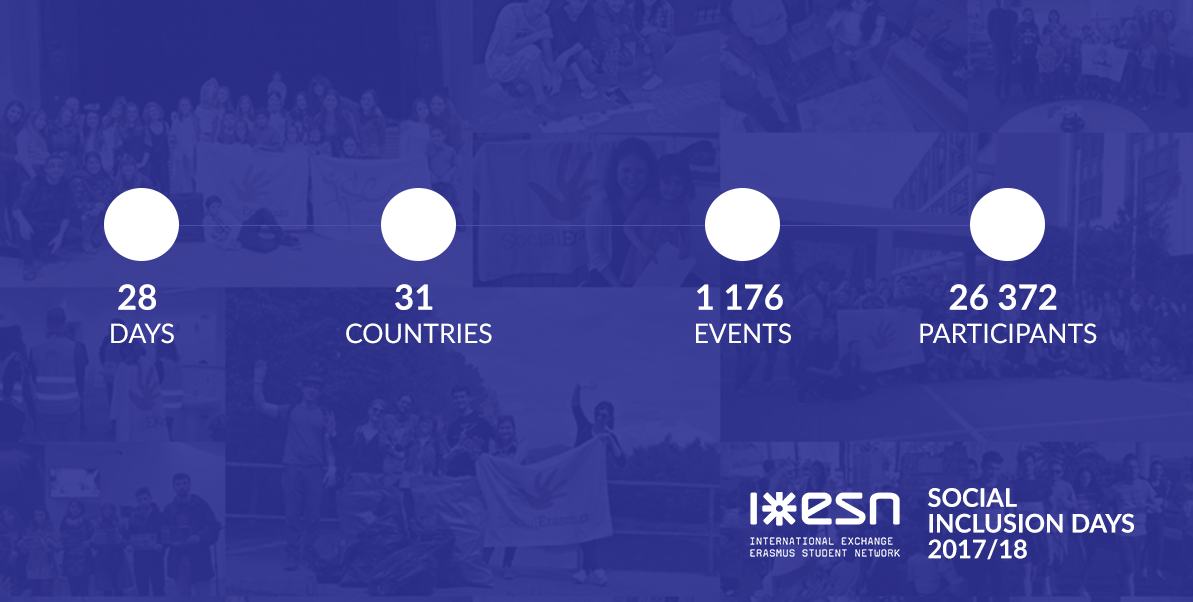 If we put together the results of the Autumn 2017 and Spring 2018 Social Inclusion Days, we obtain fantastic and particularly impressive numbers: in 28 days, 31 countries organised 1,176 events that made an impact on 26,372 young people, students, and local citizens.
"In just a few "Social Inclusion Days" more than 26,000 people were reached all across the continent, a number that showcases what ESN volunteers can do when they unite under one common cause. With over 1,100 organised activities, ESN sections have brought together international students and local friends they did not know before. In 2018-2019 ESN will continue striving for a more inclusive society, enriching it with one international student at a time". - João Pinto, the President of ESN 2017-2019
There are so many ways to do good. How will you make a difference this year? If you don't have an idea yet, start by participating in the next Social Inclusion Days!