In August 2021, Laíssa left her family, friends, internship, and university in Brazil to live in the Netherlands, Maastricht, for a semester. She knew many people who had done Erasmus, and they all shared fantastic stories about their time there.
As an adventurous and ambitious person, she wanted to connect with people from other countries, have the experience of studying International Business with an Emphasis on Sustainability from another perspective, and create unforgettable memories on the other side of the world.
Erasmus changed my life completely… I met my best friends, created the best memories, and realised that being inserted in a multicultural environment is my passion and moves me in all areas of my life. I became the person who tries to convince everyone to do an Erasmus.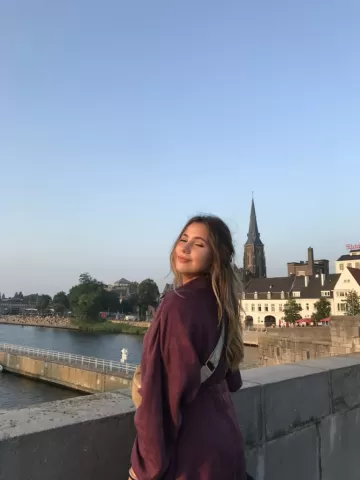 Photo of the author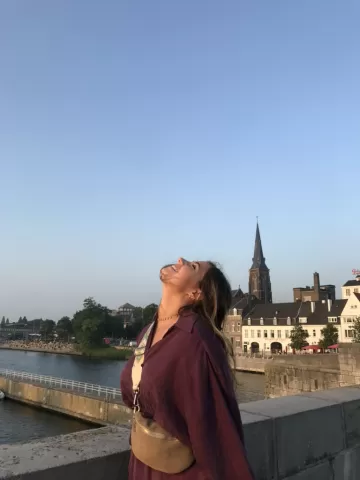 Photo of the author
Photo of the author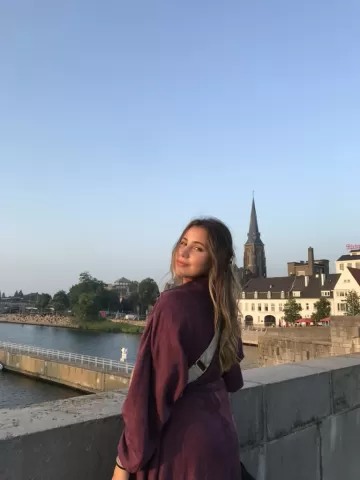 Photo of the author
Photo of the author
Laíssa, half Brazilian and half Italian, was focused on studying and discovering more about herself during her experience, and then, something unexpected happened: Nic, at the time Vice President of ESN Maastricht, went to her university introduction days to introduce new students to the Erasmus Student Network. Born in Luxembourg, Nic was studying for his Master's Degree in Sustainability Science, Policy, and Society at Maastricht University.
I couldn't help but talk to him after the presentation. That same day, we coincidentally met at Peters Pub, the place of many positive memories for those who did Erasmus in Maastricht, and on this day, our story began. I like to say that the Universe worked very cautiously for our lives to intersect. What a timing!
Nic had already been living in Maastricht for a few years, so he showed her the city from another perspective, which delighted and inspired Laíssa to enjoy every second of her Erasmus. ESN was one of Nic's great passions, so he invited her to join many of their events, and that's how they ended up spending a lot of time together and sharing the same memories during the semester.
The Pub Crawl organised by ESN Maastricht was certainly one of the most memorable nights of my Erasmus. Nic was my group's Guide, which made everything even more special. That night I also met one of my best friends from Portugal. I can't explain it, the energy was magical that day, and that's when I realised that maybe that wasn't just a fleeting love during an exchange.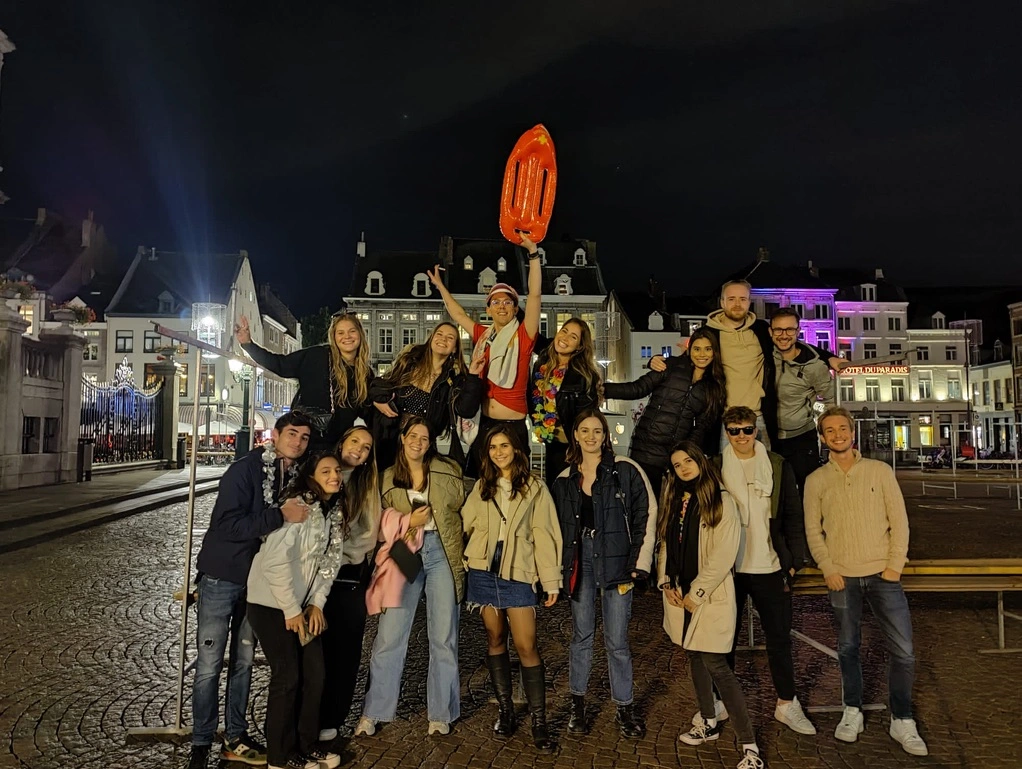 One night, Laíssa invited Nic to go to Dublin with her. On this trip, they got to know each other more deeply and realised that even though they were born on opposite sides of the world, they had a lot in common. The will to discover the world, the effort to achieve their dreams, how they knew to enjoy every second of life, and their passion for relating with people from other countries... all that was much bigger than any cultural barrier. They realised that their story was more special than they had imagined at the start.
When we returned from Dublin, we were clearly in love (and very scared). Nic took me to Luxembourg, where I met his parents and brothers. I'd never been so close to another culture before; I wanted to learn more about him, the stories he had lived through, and his plans for the future… I remember waking up every day and being surprised by something I haven't seen before: a new cultural difference that made us even more special, a new detail that made our experience even more unique.
When it was time for Laíssa and Nic to say goodbye, they decided that the best thing for both was ending the relationship. The future was uncertain, and they were afraid to maintain a long-distance relationship. But once she arrived in Brazil, things didn't go as planned.
Nic and I still talked every day. He helped me a lot in the 'post-Erasmus syndrome' period, and talking to him brought back the butterflies in my stomach that I had when I was still living in Maastricht.
They decided to start a long-distance relationship three months after Laissa's arrival in Brazil. She described this period as "challenging," but it also helped her to evolve emotionally. The couple believes that what made it all work was flexibility, respecting each other's space while still being connected. Laíssa used this time to focus on her life in Brazil, and Nic did the same in the Netherlands. At the same time, they made frequent video calls to share these new memories, and on Sundays they had online film dates.
In August 2022, Nic went to Brazil to visit Laíssa. He got to know her family, friends, and her life there. The bond between the two became even stronger, and they realised their time apart had only strengthened their connection.
When Nic arrived at the airport, I was waiting for him with a Luxembourgish flag. I remember him shaking and hugging me tightly. It was like we had seen each other the day before. We lived unforgettable moments in Brazil. When I met Nic, I said that one day I would take him to my favourite place in the world, Lençóis Maranhenses, in the northeast of Brazil.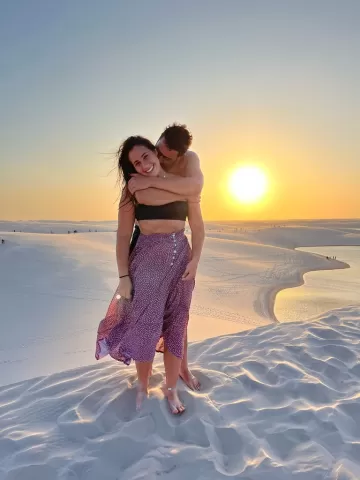 Photo of the author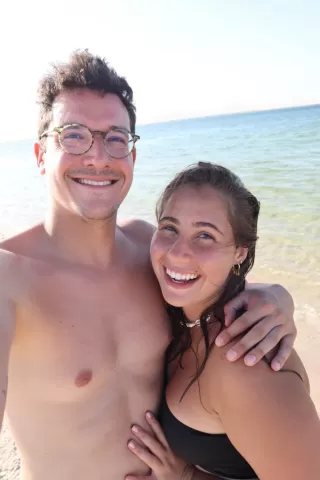 Photo of the author
Photo of the author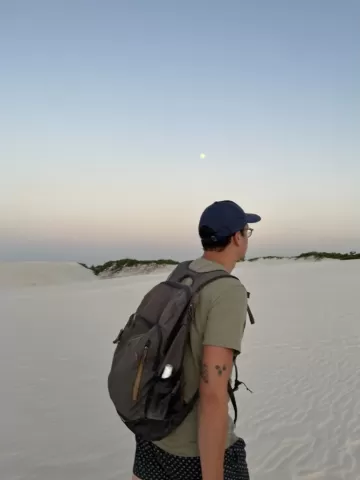 Photo of the author
Photo of the author
The exchange shaped Laíssa's life, and she realised her destiny was to return to Europe. Laíssa and Nic, after a year of a long-distance relationship, now share a flat in Brussels. She is doing a traineeship and finally living her dream of building her career in a multicultural environment where she feels at home. In August of this year, she will start her Master's degree (maybe, why not do another Erasmus?). Nic has already completed his Master's degree and is now pursuing his dream career in sustainability and politics, working as a trainee with a Green Member of the European Parliament. And he's doing it with his girlfriend by his side.
We are very grateful for Erasmus. ESN certainly had a great impact in making our experience so unique, and it has an extraordinary meaning for both of us. We look forward to what's to come!